---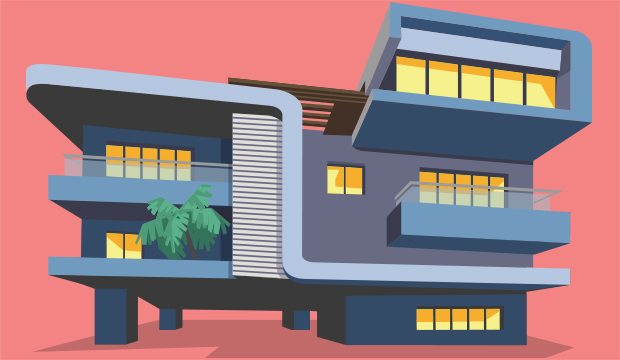 Architecture Applications
The molding freedom of composites has contributed to their popularity in decorative architectural applications, including cornices, columns, domes, cupolas and balustrades. But today, composites in architecture extend far beyond décor into structural applications. Innovative companies are using custom-fabricated composites for cladding panels and building facades.
Innovative 'Infoshop" Made from FRP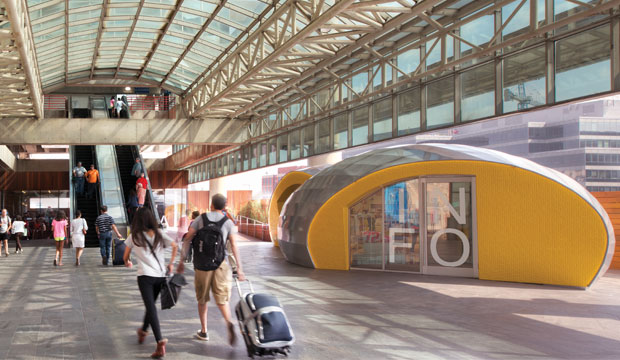 ---
Application: Information & shopping pavilion
Project Scope: 475-square-foot, curved building
Manufacturing Process: Hand Lay-up
Construction: 2012
Location: Washington, D.C.
Composites create a curved building under tight construction deadlines
Travelers arriving and departing from the new bus transit center at Union Station in Washington, D.C., have no trouble locating the small information and shopping pavilion built to serve them. With its bright yellow walls, curving silver roof and double-ovoid shape, the FRP building, constructed by Compmillennia LLC of Washington, N.C., stands out from the surrounding concrete structures.
Creating the ovoid shape presented a challenge. Studio Twenty Seven Architecture, which designed the infoshop, considered several options. Using steel and CNC bending technologies was too expensive, and the structure would be too heavy for the slab it stands on. The second alternative – millwork interlocking skeletal frames to achieve curved surfaces – required too many trades working at one time on the 475-square-foot building. The project contractor suggested molded FRP for the structure. Aside from allowing for complex shapes, FRP had another benefit: It could be pre-fabricated for quick assembly on site.
Working under a limited production schedule – only 32 days – Compmillennia moved quickly to create six GFRP wall panels and 47 silver GFRP roof panels. The roof panels resemble segments of a globe that can be spread flat but make a curved shape when assembled. Compmillennia also fabricated the individual supporting GFRP ribs for the structure.
As panels were completed, Compmillennia began constructing the sections on a box steel ladder frame. They used fiberglass laminate clips to mate the end walls to the frames and to attach the curved silver roof panels. The two completed sections were fitted but not bonded together before being transported on trailers to Union Station.
Once there, construction crews had a four- to six-hour window in the middle of the night to unload the two building sections and move them via rollers to their permanent location. Compmillennia employees came the next day to complete the assembly and join the two sections into one.
"I think the infoshop pavilion came out really well," says Todd Ray, FAIA, principal with Studio Twenty Seven Architecture. "We had a very limited work area because the terminal and the walk areas could never be closed, so the notion of pre-fabrication was critical." He says his firm would use composites again if the right project came along.