---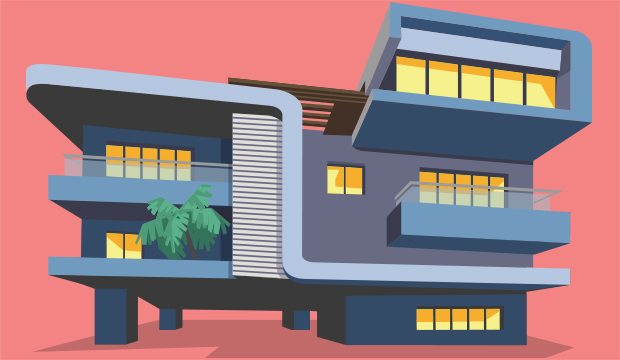 Architecture Applications
The molding freedom of composites has contributed to their popularity in decorative architectural applications, including cornices, columns, domes, cupolas and balustrades. But today, composites in architecture extend far beyond décor into structural applications. Innovative companies are using custom-fabricated composites for cladding panels and building facades.
An Eye-catching European Museum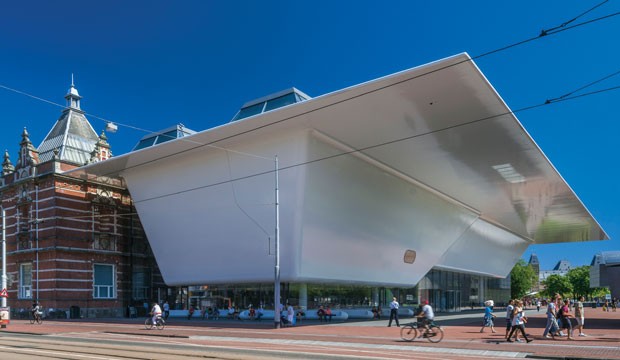 ---
Application: Stedelijk Museum of Modern Art
Project Scope: 185 composite panels
Manufacturing Process: Vacuum Injection Molding
Construction: 2012
Location: Amsterdam
High-performance composites allow for an innovative design
Amsterdam's Stedelijk Museum of Modern Art was built in 1895. Its neo-Renaissance façade features red brick, gables and a small tower. In 2012, an eye-catching new entrance and exhibition space opened in stark contrast to the original building. Resembling a bright white bathtub floating above a paved square, the expansion incorporates both aramid and carbon fibers from Teijin Aramid.
The museum extension was designed by Benthem Crouwel (BCA). The architecture firm envisioned a smooth, seamless building surface, and the only way to create this façade was to construct it from numerous small panels. But there was a hitch: If the panels were made from traditional materials, they would need a little space between the seams to expand and contract as the temperature rises and falls. That would spoil the flawless look. BCA sought materials with minimal thermal expansion. The Dutch engineering firm Solico conducted a feasibility study and determined a composite sandwich construction was the best option.
Holland Composites fabricated 185 panels, with the largest measuring 3.5 x 15 meters. The sandwich construction features polyisocyanurate (PIR) foam between two layers of an FRP laminate. The laminate, in turn, incorporates a layer of unidirectional Tenax® carbon fiber between two layers of unidirectional Twaron® para-aramid fibers. The foam and fabrics are impregnated with a vinyl ester resin during vacuum injection molding.
"The foam on the inside expands, and the aramid and carbon fibers on the outside of the sandwich construction have a negative linear expansion coefficient," says Frederiks of Teijin Aramid. "If you heat the Twaron it doesn't expand, but it strengthens. These two forces make the building neutral."
The panels were mounted onto the museum's underlying steel structure, with a two-inch gap between the outer skins of each panel. Holland Composites glued a strip of aramid-reinforced laminate into this gap, directly onto the exposed PIR foam beneath it, and bonded the laminate skins on either side. This acted as a strengthening bridge between the panels, ensuring the whole façade behaved as one cohesive unit.