---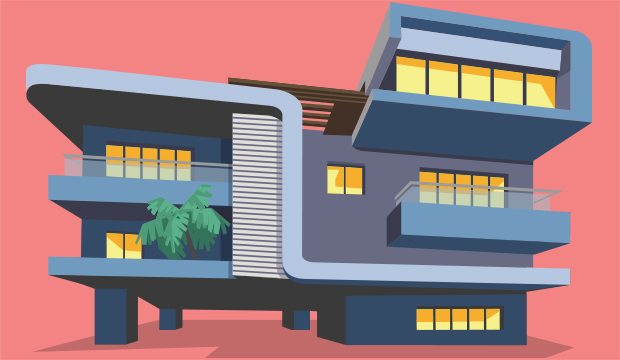 Architecture Applications
The molding freedom of composites has contributed to their popularity in decorative architectural applications, including cornices, columns, domes, cupolas and balustrades. But today, composites in architecture extend far beyond décor into structural applications. Innovative companies are using custom-fabricated composites for cladding panels and building facades.
Soaring High Into the Sky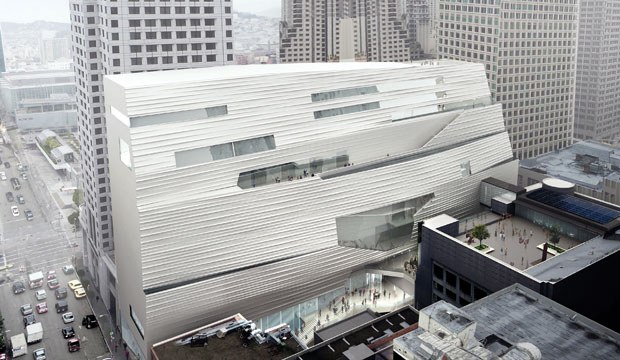 ---
Application: The San Francisco Museum of Modern Art
Project Scope: 700 FRP cladding panels
Manufacturing Process: Open Molding
Construction: 2014-2015
Location: San Francisco
Composite panels on the outside of a 10-story museum make a statement
The San Francisco Museum of Modern Art (SFMOMA) is undergoing a major expansion, joining a new 235,000-square-foot addition to its existing building. The expansion will provide nearly six times as much public space as the current building and double the museum's capacity to display art. The SFMOMA collection includes thousands of pieces, ranging from expressionist paintings to installation architecture. When the building re-opens in 2016, its new exterior may make the largest artistic statement of all, with eye-catching FRP cladding panels on the east façade.
Kreysler & Associates fabricated 700 "rain screen" panels which will cover and help waterproof the 10-story building. When fastened to the aluminum frame, the panels will create a rippling horizontal texture reminiscent of the nearby waters of the San Francisco Bay. The SFMOMA expansion is the largest use of FRP cladding on a multistory building in North America, according to Bill Kreysler, president of Kreysler & Associates Inc. in American Canyon, Calif.
The panels are made from recyclable expanded polystyrene (EPS) foam molds that are milled by a CNC hotwire machine for rough shape and by a five-axis CNC router to create the final double-curved surface. No two panels are alike: Most are 5½ feet wide with lengths varying from six to 30 feet. The skin thickness is only 3/16th of an inch. "Every panel had to be designed and engineered individually to make sure it fit properly onto the aluminum frame behind it," says Kreysler.
Kreysler & Associates teamed with Snøhetta during the research and development phase of the project to explore different techniques, textures and finishes. "While the construction industry has trended toward flat, thin façades, we wanted to explore a panel that could accommodate curvature and allow us to create a variety of visual effects by using the depth of the panel," says Samuel Brissette, a designer with Snøhetta. "The lightness, durability and custom-tailored finishes were what attracted us to FRP."
The panels are more than just aesthetically pleasing; they perform structurally, too. The building features a cantilever on one side. By using FRP, Snøhetta could maximize the span without using additional steel. Also, the rippling of the panels helps stabilize them and significantly reduces the need for reinforcing the metal support frame. "We saved the museum over a million pounds of steel," says Kreysler.