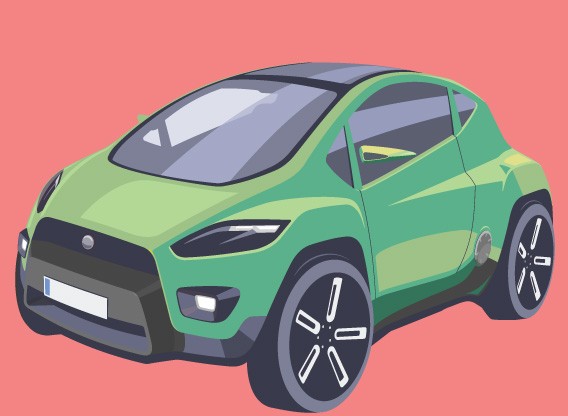 Automotive Applications
The automotive composites market is expected to top $11 billion in 2015, according to the London-based research firm Visiongain. While luxury automobiles and sports cars have long relied on composites, there's now a trend toward mid-price models featuring more composite materials. CFRP is making its way into everything from body panels to brake rotors.
The Volkswagen XL1 is an Envelope Pusher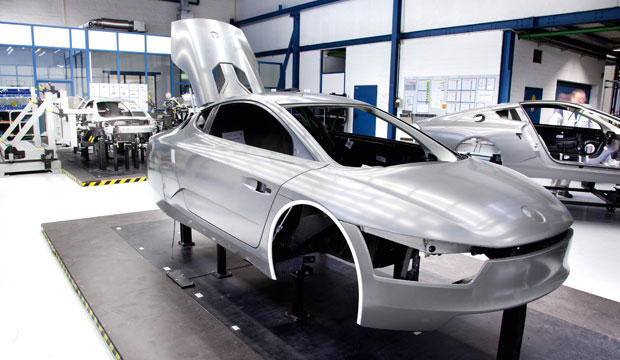 ---
Application: Diesel-powered, plug-in hybrid car
Scope: Approximately 21% of the car is made from CFRP
Production Began: 2013
Volume: 250
Manufacturing Process: Resin Transfer Molding (RTM)
CFRP allows automaker to make an incredibly fuel efficient, eco-friendly car.
Volkswagen began prototyping a "one-liter car" in 2002, reflecting a fuel consumption of less than 1 liter diesel fuel per 100 km (261 mpg). "In early stages, the cigar-shaped form made it necessary for occupants to be seated behind each other," says Christian Buhlmann, spokesman for Volkswagen and Volkswagen Americas. "Further down the engineering and production timeline it became clear that only by using CFRP structures as well as electrification of the drivetrain would the car be able to perform as needed as well as seat passengers next to each other." This series, officially named the XL1, went into production in late 2013.
VW calls it the game-changer of vehicle manufacturing because roughly 21 percent of the XL1 is made of CFRP, including the monocoque and wing doors. It weighs less than 1,800 pounds – about half the weight of the average car. And it's most certainly an eye-catching vehicle: The XL1 is less than 13 feet long and stands just 3.8 feet tall, which is less than purebred sports cars like today's Porsche Boxster.
Designed as a 2-person vehicle able to get 240 miles per gallon, the XL1 is manufactured through patented processes including RTM, assembly, tooling and even painting the CFRP components developed within Volkswagen. The automaker says using RTM rather than CFRP in a prepreg process is more economical – with lower costs at higher part volumes – because it can be automated. The RTM parts are manufactured in multi-shell, heated and vacuum-sealed tools. During the process, liquid resin is injected at high pressure into the tool containing the partly-finished carbon fiber material whose interior has the shape of the part to be produced. Afterward, the part cures in the mold.
Volkswagen adds that using CFRP has another advantage: It contributes to safety. The lightweight, high-strength CFRP monocoque utilizes a sandwich structure and intelligent design of load paths. This provides the necessary survival space for the driver and passenger during a crash.
Volkswagen says the XL1 is the most fuel efficient and eco-friendly automobile in the world. In its press kit, the company concludes, "The only reason this vehicle could be built is because it redefined the limits of what is feasible both in terms of the technologies it utilizes and its manufacturing method. Volkswagen is implementing highly innovative systems and materials."