---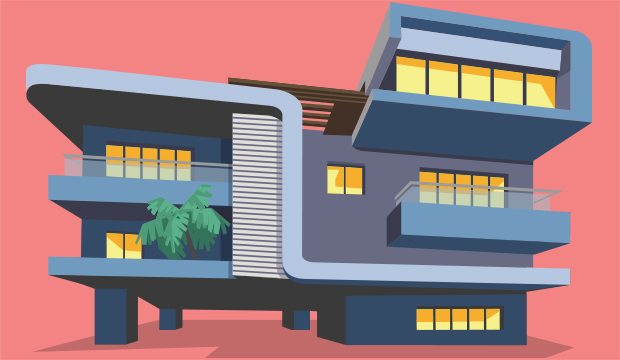 Architecture Applications
The molding freedom of composites has contributed to their popularity in decorative architectural applications, including cornices, columns, domes, cupolas and balustrades. But today, composites in architecture extend far beyond décor into structural applications. Innovative companies are using custom-fabricated composites for cladding panels and building facades.
Hanging Gardens Are a Work of Art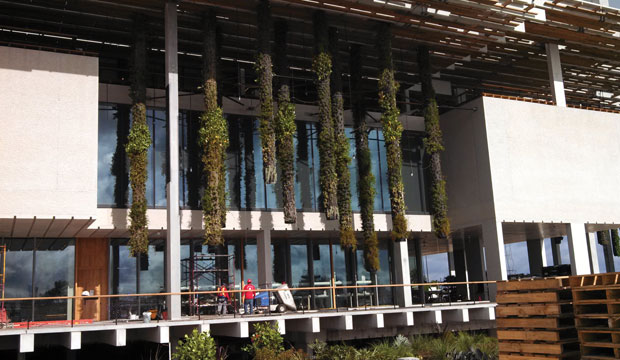 ---
Application: Hanging gardens surrounding an art museum
Project Scope: 67 FRP tubes holding 80 plant species
Manufacturing Process: Hand Lay-up
Construction: 2013
Location: Miami
Composites are key to creating vertical gardens capable of withstanding hurricane winds
Even before visitors to the Pérez Art Museum Miami walk through its doors to admire more than 1,800 pieces of modern and contemporary art, they are treated to an artistic masterpiece. The 200,000-square-foot museum, opened in downtown Miami in December 2013, features hanging gardens all around the building. JTI Companies Inc. in Birmingham, Ala., fabricated a superstructure comprising seven chambers with 67 FRP tubes that descend from a canopy and hold 80 different plant species native to Florida.
JTI was brought into the museum project by the architect of record, Handel Architects, whose primary concern was that the gardens could withstand hurricane winds. "When they approached us, they had a conceptual drawing with some lines coming down in a vertical garden, but they did not have any specific technology in place," says Jason Brough, president of JTI. "They were considering alloys and other materials that were cost-prohibitive. But the driving factors were selecting a material that could stand up to 146 mph winds and resist saltwater corrosion."
As the delegated engineer for the museum project, JTI designed and fabricated a complete structural support system for all seven chambers of the vertical gardens. Each chamber features eight to 11 custom FRP tubes. "It looks like a set of wind chimes," says Brough. "The only difference is these tubes are 18 inches in diameter and anywhere from 28½ to 51 feet long." JTI devised a laminate structure that would bend, but not break, under hurricane strength winds. The tubes are constructed of matte woven roving and C-veil fiberglass, Hardwire® high-strength twisted steel wires and K022-AA epoxy vinyl ester resin from AOC.
JTI selected the K022-AA resin because it is fire-resistant (critical in an architectural application) and corrosion-resistant (important in the museum's coastal environment). Inclusion of the Hardwire steel wires increases the strength-to-weight ratio of the tubes while maintaining flexibility: The tip of each tube will move a maximum of only eight inches in 146 mph winds. The team at JTI fabricated the tubes using hand lay-up, alternating layers of fiberglass and Hardwire in a sandwich construction to create the 3/8-inch thick tubes.
Once completed, JTI shipped the components of the inverted garden to Miami for installation, which took six months. Each of the seven chambers comprise tubes, tension rods and compression struts, which are attached to the walls and structural steel at the top of the building. The tubes, which descend from those chambers, are covered with felt that has pockets cut into it. The plants are placed in those pockets, and water is delivered into the felt through nozzles at the top of the tubes. The water works its way down the tubes, sustaining the plant roots in a soil-less system.
"This was a one-of-a-kind project that had to go off without a hitch for the general public," says Jason Brough. "There was no second chance. And there was no benchmark."